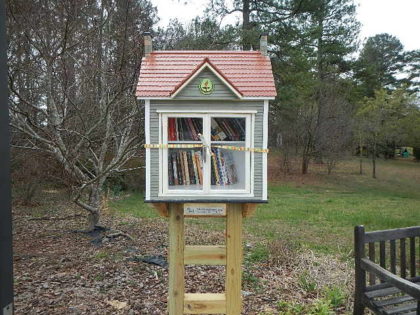 Little Free Libraries are a global phenomenon. The small, front‐yard book exchanges number 36,000 around the world in 70 countries — from Iceland to Tasmania to Pakistan. Now, a Little Free Library is at 11105 Cauthorne Road, Glen Allen, on the grounds of the Unitarian Universalist Community Church.  The church joins the movement to share books, bring people together, and create communities of readers.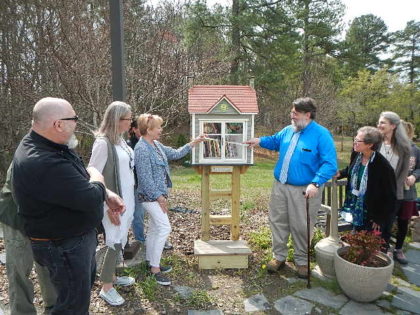 This newest Little Free Library is a unique design, including chimneys, and was created by church member, Kevin Paris and is open for your
visits.   Located under a light pole and near a bench on our patio, you will find an inviting spot to peruse the book collection.
The Unitarian Universalist Community Church is a liberal religious church offering a wide range of spiritual experiences and activities for people of all ages, ethnicities, sexual  orientation, and gender identities.   We view ourselves as being on spiritual path, one that does not dictate or require adherence to a particular theology or set of religious beliefs.
"We offer our Little Free Library to the community to provide exploration, connection, and more reading in line with our liberal religion," says Bob Larkin, Chair of the Board of Stewards of the church.
The Little Free Library nonprofit organization has been honored by the Library of Congress, the National Book Foundation, and the American Library Association, and Reader's Digest ​named them one of the "50 Surprising Things We Love about America." Each year, nearly 10 million books are shared in Little Free Libraries. To learn more, please visit littlefreelibrary.org.
Questions? Contact: Sara Long 804-437-4706 longsongs@hotmail.com